Reddy for Christmas --(Limited Edition Christmas 2002)--Fruity, Red Hot candies
UK
VEGAN: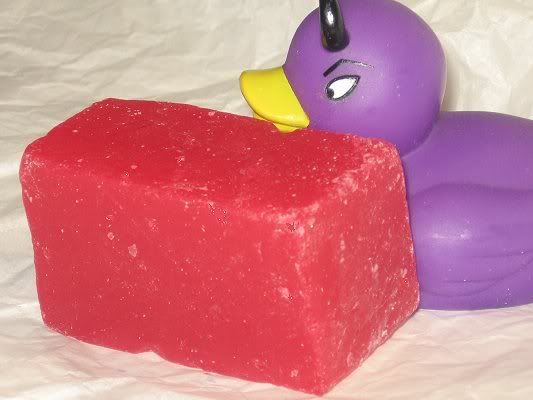 Ingredients:Water (Aqua), Cinnamon Leaf Oil, Perfume, Styrax Resinoid, Lemon Oil, Ginger Oil, Francincense Resinoid, Glycerine, Colour 18050 and Gold Sparkles.
Lush.a.Lot's Review: I loved this when it was out. I just won this little honkin' 250g beauty via Ebay a few days ago and fortunately this lovely woman kept this in some kind of air tight time capsule or something. (:-) Ohhh. This smells like the previous Lush Christmas soap called "Spice Mountain" or "Sparkle Spice". It's scent is like a combination of red hots (from the cinnamon) and a slight cherryish Angel's Delight soap scent to me (because of something fruity). It's scent lasts a goodly amount of time on the skin. This is a great soap for Christmas and I like to use it with other spicy Christmas products such as the cinnamon laced Christmas Cracker bubble bar or even Cafe Latte or Hot Java ballistics...and ...I kinda love it with Karma for an orange and spice smell that drives me personally wild.
2002 LT description: Oh dear, it's one of those Lush puns again! The Reddy for Christmas soap is red and washing with it gets you ready for Christmas because it smells of cinnamon and ginger, like Christmas puddings. We add some frankincense, not only becuase it is one of those deeply symbolic Christmas scents, but necuase it is very good for your skin; it is even used in Ayurvedic medicine to rejuvenate the body and help get rid of wrinkles. Include it in your yuletide preparations; the minute you put up the Christmas tree, put some Reddy for Christmas in the washbasin.