(Limited Edition Christmas 2004) (hot cinnamon sticks)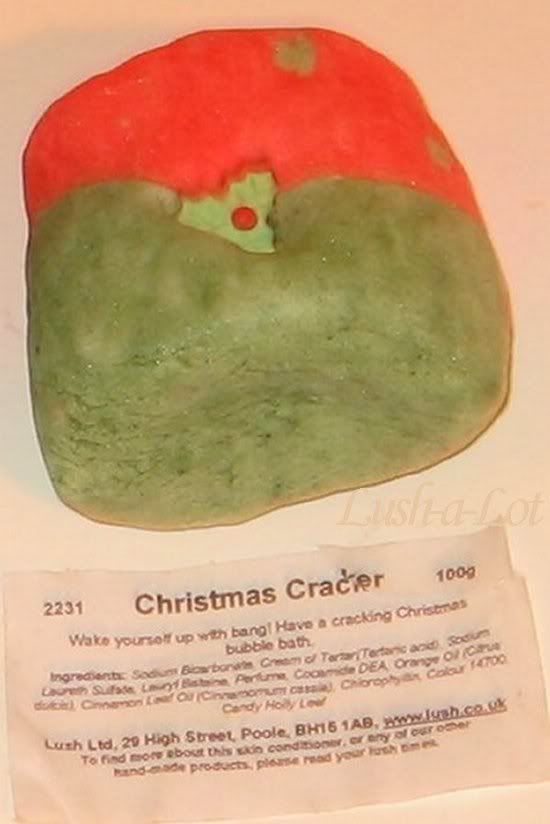 100g $3.80
Ingredients: Sodium bicarbonate, cream of tartar, sodium laureth sulfate, Lauryl Betaine, perfume, cocamide dea, orange oil, cinnamon leaf oil, chlorophyllin, color, candy holly leaf.
Lush.a.Lot's Review: This is a half red/half green colored Christmas bubble bar with orange oil and cinnamon leaf oil. I think this is the spiciest BBS that I've ever tried from Lush. If you use just the red part the water turns pink and if you use the green part the water turns green, but using the whle thing makes kind of a dark red/brown color. I think this needs something in addtion to all that cinnamon. It reminds me of Phoenix BBS but heavier.
Notes: I like to have with any of the spicy or orangey Christmas products like Puddly Holly, Pheonix bath melt. One time I had Christmas Cracker bar with a Cafe Latte ballistic (Heaven).
Lush Times 2004 Description: Wake yourself up with a bang! Wake yourself up on a cold and frosty morning (or a dull, dark, damp one) with a cracking Christmas bubble bath. It's out classic cinnamon and orange, crowing rooster alarm clock scent to ping your eyelids open and jump start your brain. Crumble the seasonally red and green bar under your running bath water as you sip your spiced coffee. Get in, enjoy the reviving warmth and don't forget to read the corny motto which we've stuck inside it, just like a real cracker.